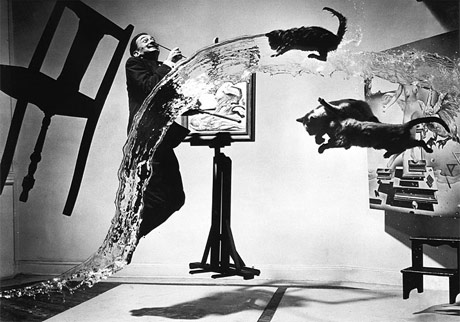 It took 26 tries and over five hours to have this image done. Philippe Halsman made this picture in 1948 and the subject was Salvador Dali himself. Of course, all that you see in the image was an real act in front of the camera, no ticks or retouch. No more than three assistants threw the cats, one threw the water from a bucket and Halsman's wife held the chair.
Halsman was very known for images with people jumping. He has put together an entire series of images in a book called "Jump Book".
________________
A fost nevoie de 26 de incercari si de mai bine de cinci ore pentru a realiza imaginea. Philippe Halsman a facut fotografia in anul 1948 iar subiectul este Salvador Dali in carne si oase. Bineinteles, tot ce vedeti in imagine se intampla cu adevarat in fata camerei, fara trucuri sau retusari. Nu mai mult de trei asistenti aruncau pisicile, un altul arunca apa cu ajutorul unei galeti iar sotia fotografului tinea scaunul.
Halsman era foarte cunoscut pentru fotografiile cu oameni sarind. In cartea "Jump Book" a adunat o serie intreaga de imagini pe aceasta tema.