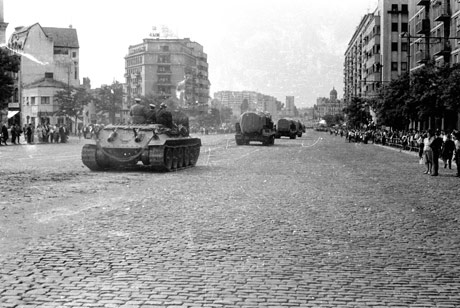 I found these pictures in my father archive. I suppose that the images are made in 1952 or 53. This is an 23rd o of august military parade (the national day in the Romanian communist era). The pictures are shoot in Saint Gheorghe Square (this is between Unirii and Universitate Square).
In the first picture, pointing Unirii Square in the background (middle-right of the picture), you'll see the Cantacuzino Hospital, demolished by Ceausescu in 1986. Of course the Unirea and Cocorul Supermarket that should be in the picture are not build yet.
Am gasit imaginile in arhiva tatalui meu. Cred ca sunt facute prin 52 sau 53 cu ocazia paradei militare organizata in ziua de 23 august (ziua nationala in acea perioada). Fotografiile sunt facute in Piata Sf. Gheorghe (intre Unirea si Universitate pentru cei ce au probleme cu localizarea :)). In prima dintre imagini se poate vedea Spitatul Cantacuzino (in centru-dreapta imaginii), spital demolat de Ceausescu prin 1986. Magazinele Unirea si Cocorul nu erau construite la acea vreme.